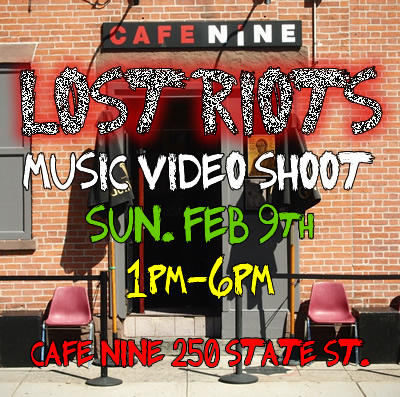 Be there. Follow this link.
On Sunday Feb 9 at Cafe Nine 1-6pm...
Award-winning punk group the Lost Riots will be filming a music video. You should be there.
Back in August 2013, LocalScene wrote a
review
of the album "
Crown Street Stories
."
The concept for the video is fairly simple. The band comes in to perform, they kind of annoy the hell out of people, and then they get chased out, similar to the Beatles' scene from
Hard Days Night
. The group will be filming this video for the song "
Last Night Was Fun
." Other great songs on the album are "You Don't Like Otis Redding" and "East Rock Parties"
Being at this event might be the most fun thing you can do on a Sunday afternoon in New Haven. There's a waiver form as well as a discussion forum about topics particular to "ways of getting thrown out or kicked out of a bar..." There's even this cool promotional video: